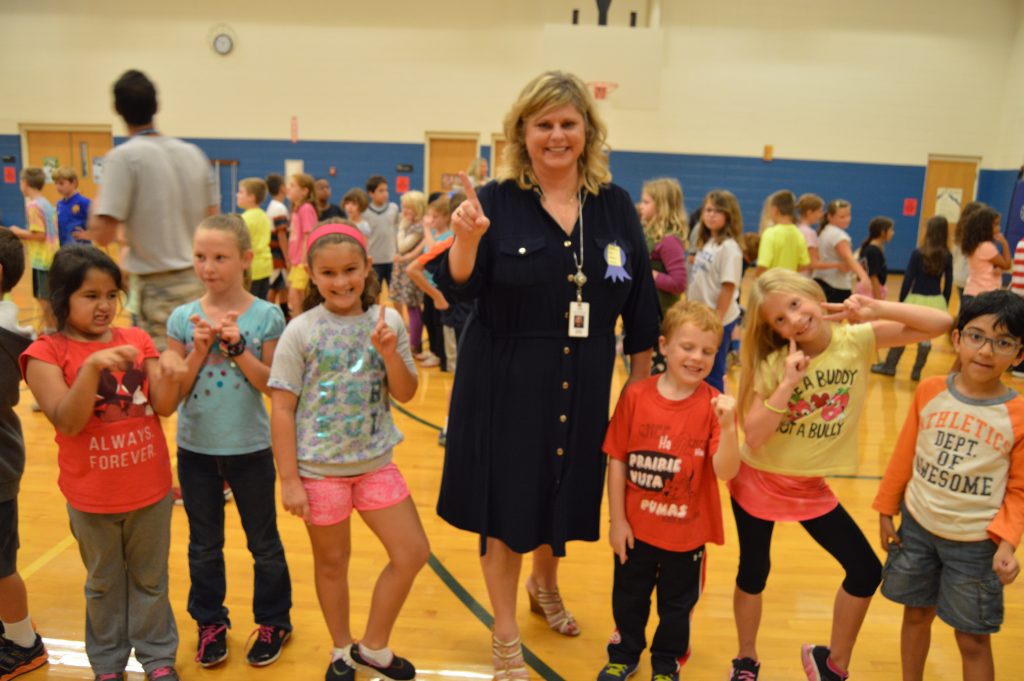 Prairie Vista Named 2015 National Blue Ribbon School
Posted on September 29, 2015



U.S. Secretary of Education Arne Duncan announced today that Prairie Vista Elementary School is among the 335 schools (10 in Indiana) named a 2015 National Blue Ribbon School. Prairie Vista is being recognized for being an "Exemplary High Performing School," per the Department of Education's classifications.

This makes the second time that the Penn-Harris-Madison elementary school has been awarded this national honor; the first award was given in 1996-1997. The school has a strong track record of maintaining high standards and helping their students achieve academic success. For the past seven years, the Indiana Department of Education has also recognized Prairie Vista as a Four Star School.

Principal Keely Twibell is calling an all-school assembly this afternoon at 1:30 p.m. to make the surprise announcement to students, teachers and staff so that everyone could share in the excitement together.

"This is a remarkable accomplishment for our students and teaching staff," said Twibell. "Prairie Vista was selected for this award based on a comprehensive review of our achievements over the past five years. This award belongs to all of us because it is the combination of talented educators, energetic students, committed parents and a supportive community and school district that makes Prairie Vista such an outstanding school. "

Organized into traditional K-5 grade levels, averaging 25 students per class, Prairie Vista is a diverse student-centered learning community where 21 languages are represented amongst our student body. The staff of 65 creates a safe, secure, nurturing and diverse environment for each and every one of the 500 students.

"Today's award is an affirmation for Prairie Vista and P-H-M School Corporation that our formula for success works," said Penn Harris Madison School Corporation Superintendent Dr. Jerry Thacker. "Students committed themselves, they were supported by their parents and families, and of course were guided and taught by excellent teachers … that's the P-H-M 'Triangle of Success'—students, parents, teachers!"

Success at Prairie Vista is not just defined by academic excellence, fostering strong character development in students is also paramount. The school's positive behavior plan (PRIDE) and Whole Brain Teaching strategies empower students to take ownership of their actions and learning. Students are nurtured as leaders, producing videos and crafting morning announcements to positively influence their own school culture. A commitment to rigor and relevance leads students to become problem solvers, critical thinkers and decision makers prepared to thrive in college, career and life.

Prairie Vista's 2015 recognition makes the eighth time that a P-H-M school has received the National Blue Ribbon designation: Penn High School in 1994, 1995 and again in 2001; Discovery Middle School in 2006 and 2013; Northpoint Elementary School in 2010; and Prairie Vista received the award for the first time in 1996.

The Department will honor 285 public and 50 private schools at a recognition ceremony at the Omni-Shoreham Hotel in Washington, DC to be held on Monday and Tuesday, November 9 and 10, 2015.

In its 33-year history, the National Blue Ribbon Schools Program has bestowed this coveted award on more than 8,000 of America's schools.

The National Blue Ribbon Schools Program honors public and private elementary, middle and high schools where students either achieve very high learning standards or are making notable improvements in closing the achievement gap. The award affirms the hard work of students, educators, families and communities in creating safe and welcoming schools where students master challenging content.

All schools are recognized in one of two performance categories, based on all student scores, subgroup student scores and graduation rates:
Exemplary High Performing Schools are among their state's highest performing schools as measured by state assessments or nationally normed tests. Student subgroup performance and high school graduation rates are also at the highest levels.
Exemplary Achievement Gap Closing Schools are among their state's highest performing schools in closing achievement gaps between a school's subgroups and all students over the past five years. Student subgroup performance and high school graduation rates for each subgroup are at high levels.
Specifically, for the 2014-2015 award year, the Department strengthened the focus of both categories' performance criteria around subgroups within a school and improving graduation rates for all students.
The Department invites National Blue Ribbon School nominations from the top education official in every state, the District of Columbia, Puerto Rico, the Virgin Islands, the Department of Defense Education Activity and the Bureau of Indian Education. The Council for American Private Education (CAPE) nominates private schools. A total of 420 schools nationwide may be nominated, with allocations determined by the numbers of K-12 students and schools in each jurisdiction. The U.S. Secretary of Education invites nominated schools to submit an application for possible recognition as a National Blue Ribbon School.
Last Modified January 19, 2022